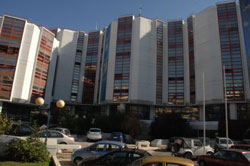 The aim of the Department is to provide theoretical and practical training in matters concerning corporate governance in the private and public sectors. Within the overall objective, the curriculum section based on a system of knowledge and methods that promote science students, familiar with the life and work of businesses and expand their professional guidelines. Organizationally the program includes a large number of courses covering the areas of Accounting and Finance, the Production Management, Marketing, Management Personnel, Environmental Management, etc.
The Department, following the dynamic evolution of economy and technology and maintaining the necessary flexibility, has the potential adjustments that prepare managers, capable of enhancing the competitiveness of enterprises.
The curriculum of the Department is aimed at students who wish to become senior executives and businesses and organizations.
Website: www.ode.unipi.gr/index.php/en