Piraeus is a vivid city, the largest passenger port in Europe and the second largest in the world. It has a long recorded history, dating to ancient Greece. The presence of the University of Piraeus and the Technological Education Institute of Piraeus make it a student city, with events taking place almost on a daily basis and a unique lifestyle.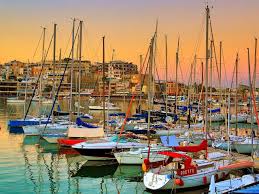 Piraeus extends from the Gulf of Eleusis up to Faliro bay, opposite Salamis. Its main geographical feature is the Piraeus peninsula, on which stands Pasalimani or port of Zea, Mikrolimano (or Tourkolimano) and the hill of Castella (or hill Prophet Elias). It is located 12km southwest of the centre of Athens. The main port of Piraeus is located between Piraeus peninsula and Drapetsona. Piraeus has become a major international maritime and shipping industry centre thanks to its size, location and the very ancient relationship of Greeks with the sea. Apart from commercial trading it transports million passengers each year to the Aegean islands.
For more information you can visit the following links:
- http://www.visitgreece.gr/el/main_cities/piraeus
Here you can find information about life in Piraeus and about your Erasmus in the University of Piraeus.